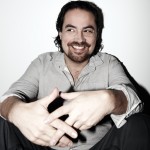 "Why invent a dystopic future for my movie when I could imitate a dystopic present?"
Main Event:  Please join us for a screening of Sleep Dealer (Spanish with English subtitles) with its director Alex Rivera.  (Get event flyer.)
When:  Monday, February 8, 6:30-9pm
Where: 2205 Haring Hall
Agenda:
6:30-6:45: Introduction to Alex Rivera and his presentation of his film, Sleep Dealer
6:45-8:15: Screening of Sleep Dealer (in Spanish with English subtitles)
8:15-8:45: Post-screening Q&A with Alex Rivera
Follow-on Event: "Developing World Subjectivities and Sensibilities in a New Kind of Sci-Fi Film and Digital Media Art"
Will include screening of Alex Rivera's earlier digital media art works and open discussion.
When: Tuesday, February 9, 12-1:30pm
Where: 194 Young Hall
Sleep Dealer is Rivera's first full-length feature film in which, through a captivating narrative, he presents his dystopian – utopian to some – extrapolation of current social, economic and political trends towards the near future with the U.S.-Mexico borderlands serving as a co-protagonist alongside its cybermigrants.  Sleep Dealer won two Sundance awards and the Amnesty International Film Prize in 2008.  The film is the culmination of over a decade of digital media works in which Alex analyzes immigration-related phenomena, such as transnationalism, and exposes and extrapolates the problematics of current nation-state ideologies and policies relative to Latin American labor migrations to the U.S.
Alex Rivera
Alex Rivera is a New York based digital media artist and filmmaker.  His first feature film, Sleep Dealerpremiered at Sundance 2008, and won two awards, including the Waldo Salt Screenwriting Award.  Rivera is a Sundance Fellow and a Rockefeller Fellow.  His work, which addresses concerns of the Latino community through a language of humor, satire, and metaphor, has also been screened at The Berlin International Film Festival, New Directors/New Films, The Guggenheim Museum, PBS, Telluride, and other international venues.
For Alex' résumé, click here.
Mexico. The near future. Memo Cruz has always dreamed of leaving his tiny village and heading north.   But when he is ultimately forced to leave, Memo finds a future so bizarre – border walls, shantytowns, hi-tech factories, remote control drones and aqua-terrorists – that it looks a lot like today.
Links to Reviews
Sponsors
This event is cosponsored by the Estudios Culturales en las Américas Research Supercluster, the Spanish & Portuguese Department, Technocultural Studies, Film Studies, the Environmental Humanities Research Supercluster and the English Department.
For more information regarding this event, contact Arturo Vargas.