Date:          Nov.4, 2010
Time:         4pm
Location:    3201 Hart Hall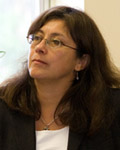 Professor Ana Patricia Rodriguez, from the University of Maryland, College Park, will be visiting UC Davis. She is a Latino/a Studies and Central-americanist scholar.  Click here for the flyer.
Her talk is titled "Los 30": Documenting Thirty Years of the Salvadoran Diaspora, 1980-2010.
This event is sponsored by the Estudios Culturales en las Americas Research Super Cluster, The Davis Humanities Institute, and the Hemispheric Institute of the Americas.